Available for Phomemo PM-201 & PM246 & PM246S Shipping Label Printer!
*Please note that the thermal paper is out of stock temporarily, it will be shipped after 2021.01.14, we're sorry for the inconvenience and thank you for your understanding.
This package includes:
-- 4×6" Shipping Sticker Labels * 500
Product Description 
✓4" x 6" Shipping Labels

Eco-Friendly, it's compatible with Phomemo thermal printers, no ink required.

 

✓Strong Adhesive

The Labels are made from high quality material,and are strong adhesive, no worry the labels fall off. Perfect for corrugated cardboard to envelopes.

 

✓Suitable for Phomemo thermal label printer.

Compatible with Zebra, Fargo, Elton, Datamax, Sato, Intermec, NEX and many other direct thermal printers.

 

✓Compatible with All Couriers

These labels not only work with UPS, Fedex, DHL, USPS , etc, but also perfect for barcode labels and all kinds of shipping labels.

 

✓Easy to Tear-off

Blank mailing label with perforated line for easily peeling off.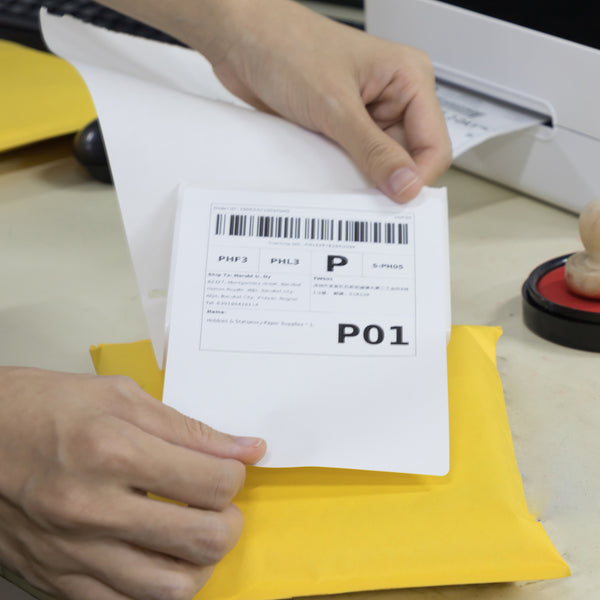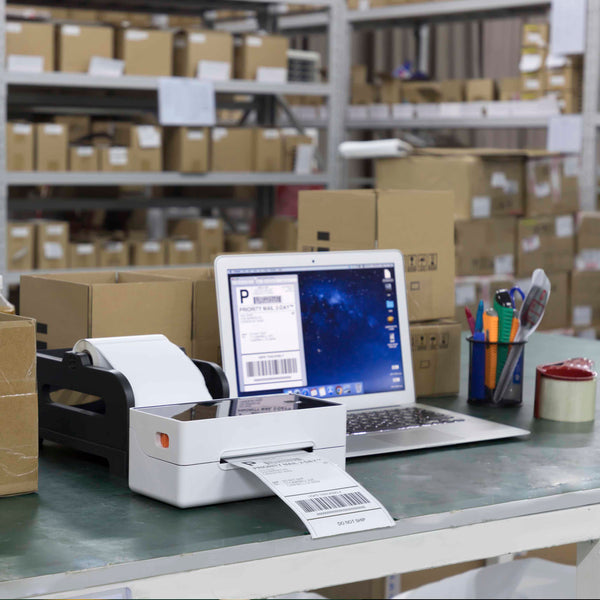 Transparent/Semi-transparent/Regular Sticker Thermal Paper 3 Rolls
Gold Sparkle/Silver Sparkle/Regular Sticker Thermal Paper 3 Rolls
Gold Sparkle/Silver Sparkle/Transparent Sticker Thermal Paper 8 Rolls
Gold Sparkle/Silver Sparkle/Semi-Transparent Sticker Thermal Paper 6 Rolls
Sticker Thermal Paper with Paper Holder Set | Compatible with M02S
Pineapple/Colorful dots/Sun Sticker Thermal Paper For 20yrs
Round Self-Adhesive Label-1 Roll of 140 Labels 50x50mm
Cable Label Self-Adhesive-1 Roll of 100 Labels 25x38mm
Name Label Self-Adhesive-1 Roll of 230 Labels 50x30mm
Navy Blue Thermal Paper 3 Rolls For 2 yrs
Green/Lavender Purple/Light Orange Sticker Thermal Paper 3 Rolls For 20yrs
Gold Sparkle Stickers Thermal Paper 3 Rolls For 20yrs
Semi-transparent Sticker Thermal Paper 3 Rolls For 20yrs
Little daisies/blue&white plaid/milk strawberry Sticker Thermal Paper For 20yrs
Pineapple/Colorful dots/Sun Sticker Thermal Paper For 20yrs
Transparent/Semi-transparent/Regular Sticker Thermal Paper 3 Rolls
Gold Sparkle/Silver Sparkle/Regular Sticker Thermal Paper 3 Rolls
Gold Sparkle/Silver Sparkle/Transparent Sticker Thermal Paper 8 Rolls
Gold Sparkle/Silver Sparkle/Semi-Transparent Sticker Thermal Paper 6 Rolls
Sticker Thermal Paper with Paper Holder Set | Compatible with M02S
Pineapple/Colorful dots/Sun Sticker Thermal Paper For 20yrs
Round Self-Adhesive Label-1 Roll of 140 Labels 50x50mm
Cable Label Self-Adhesive-1 Roll of 100 Labels 25x38mm
Name Label Self-Adhesive-1 Roll of 230 Labels 50x30mm
Navy Blue Thermal Paper 3 Rolls For 2 yrs
Green/Lavender Purple/Light Orange Sticker Thermal Paper 3 Rolls For 20yrs
Gold Sparkle Stickers Thermal Paper 3 Rolls For 20yrs
Semi-transparent Sticker Thermal Paper 3 Rolls For 20yrs
Little daisies/blue&white plaid/milk strawberry Sticker Thermal Paper For 20yrs
Pineapple/Colorful dots/Sun Sticker Thermal Paper For 20yrs
CUSTOMER REVIEWS
Based on {{summary.totalNum || 0}} reviews
Write A Review
Ask A Question
All Picture
{{item.like || 0}}
{{item.dislike || 0}}
{{item.replyCount || 0}}
{{item.like || 0}}
{{item.dislike || 0}}
{{item.replyCount || 0}}
{{reviewData.like || 0}}
{{reviewData.dislike || 0}}
{{reviewData.replyVoList.total || 0}}
RELEASE
/
RELEASE
CUSTOMER REVIEWS
Based on {{summary.totalNum || 0}} reviews
Write A Review
Ask A Question
{{item.like || 0}}
{{item.dislike || 0}}
{{item.replyCount || 0}}
{{reviewData.like || 0}}
{{reviewData.dislike || 0}}
{{reviewData.replyVoList.total || 0}}
RELEASE
RELEASE