🔸

Bundle A

: D30 Label Printer (White/Pink/Cyan) + Square self-adhesive Yellow/Pink/Blue thermal label

 

14*50mm
                       
🔸

Bundle B

: D30 Label Printer (White/Pink/Cyan)

 

+

 

Square self-adhesive transparent thermal label

 

14*30mm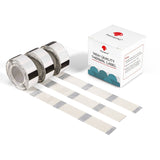 🔸

Bundle C

: D30 Label Printer (White/Pink/Cyan)

 

+ Square self-adhesive white thermal label

 

12*40mm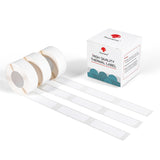 🔸

Bundle D

: D30 Label Printer (White/Pink/Cyan)

 

+

 

Square self-adhesive strawberry/apple/peach thermal label

 

12*30mm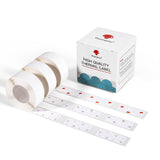 💥Stylish and portable, smaller than a mobile phone 

(131.1 x 75.5 x 29mm),can easily print anywhere.

💥Bluetooth connection 4.0 and long-distance printing (10 meters). Support Android 4.0 and IOS 8.0 system and above.
💥Two-color (Green and Red)indicator light to know the printer status at any time. 

Can print more than 50 rolls of thermal label when fully charged.

💥

Various styles of thermal label to choose. Can print transparent/white/color pattern/square/round labels.

💥D30 label printer can be used in clothing storage, kitchen storage, daily necessities labeling, office supplies, supermarkets, student supplies, pharmacies, etc. Can print storage labels, name labels, price labels and other item remarks.
💥After-sale warranty, we support One-year warranty return. If you do not receive the product two months after placing the order, we will refund unconditionally.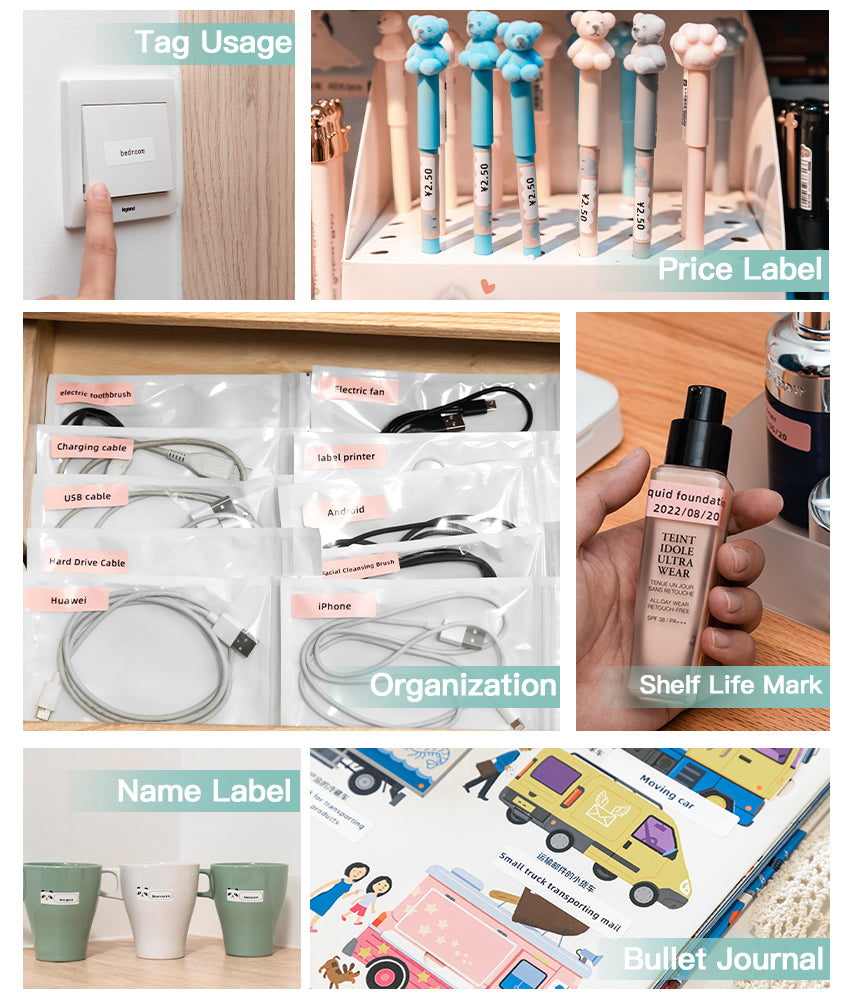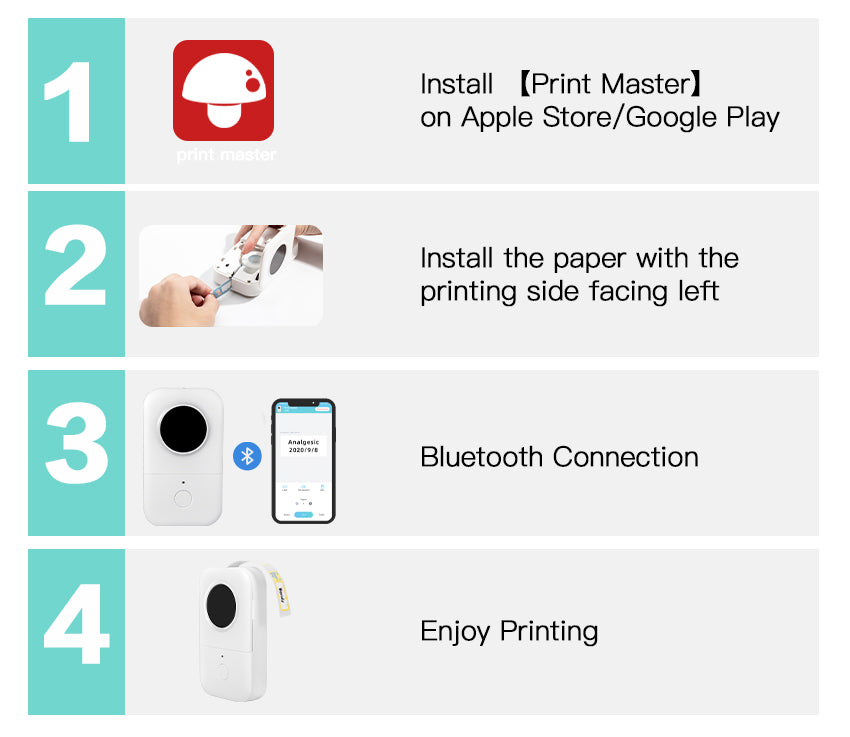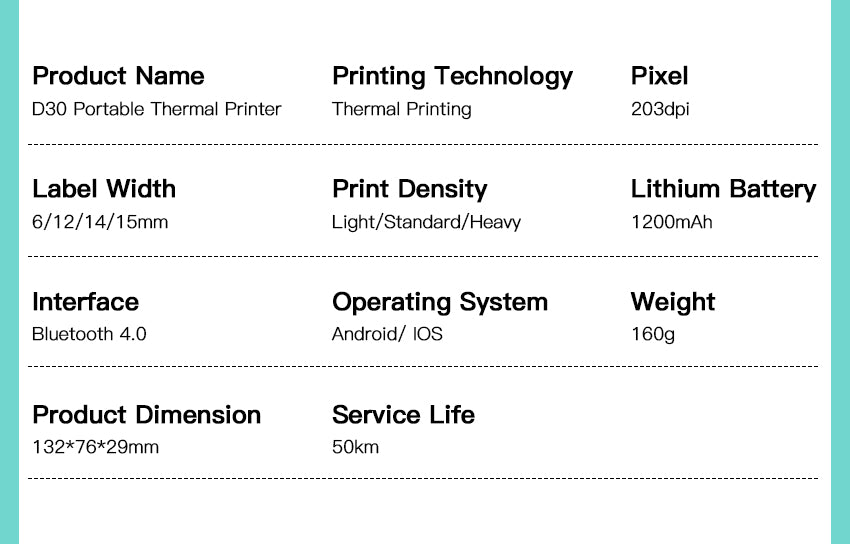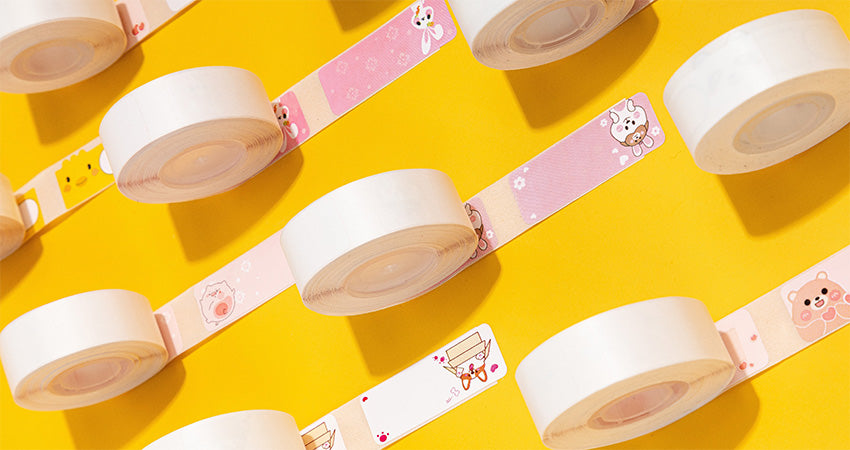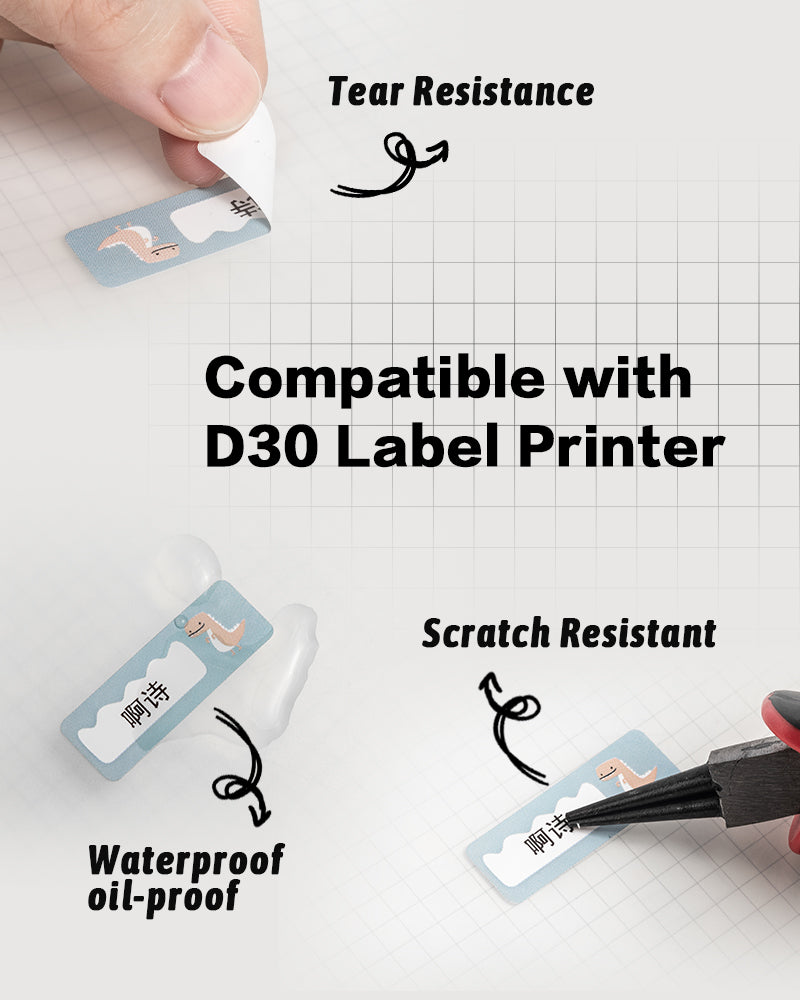 Packing List:
1- Phomemo Pocket Printer + 3 rolls of thermal printing paper(Depends on the bundle you choose)
1- USB Cable
1- Thermal Printing Paper (12*40mm white square label Inside the Printer)
1- User Manual
1- Packing Box
Transparent/Semi-transparent/Regular Sticker Thermal Paper 3 Rolls
Gold Sparkle/Silver Sparkle/Regular Sticker Thermal Paper 3 Rolls
Gold Sparkle/Silver Sparkle/Transparent Sticker Thermal Paper 8 Rolls
Gold Sparkle/Silver Sparkle/Semi-Transparent Sticker Thermal Paper 6 Rolls
Sticker Thermal Paper with Paper Holder Set | Compatible with M02S
Pineapple/Colorful dots/Sun Sticker Thermal Paper For 20yrs
Round Self-Adhesive Label-1 Roll of 140 Labels 50x50mm
Cable Label Self-Adhesive-1 Roll of 100 Labels 25x38mm
Name Label Self-Adhesive-1 Roll of 230 Labels 50x30mm
Navy Blue Thermal Paper 3 Rolls For 2 yrs
Green/Lavender Purple/Light Orange Sticker Thermal Paper 3 Rolls For 20yrs
Gold Sparkle Stickers Thermal Paper 3 Rolls For 20yrs
Semi-transparent Sticker Thermal Paper 3 Rolls For 20yrs
Little daisies/blue&white plaid/milk strawberry Sticker Thermal Paper For 20yrs
Pineapple/Colorful dots/Sun Sticker Thermal Paper For 20yrs
Transparent/Semi-transparent/Regular Sticker Thermal Paper 3 Rolls
Gold Sparkle/Silver Sparkle/Regular Sticker Thermal Paper 3 Rolls
Gold Sparkle/Silver Sparkle/Transparent Sticker Thermal Paper 8 Rolls
Gold Sparkle/Silver Sparkle/Semi-Transparent Sticker Thermal Paper 6 Rolls
Sticker Thermal Paper with Paper Holder Set | Compatible with M02S
Pineapple/Colorful dots/Sun Sticker Thermal Paper For 20yrs
Round Self-Adhesive Label-1 Roll of 140 Labels 50x50mm
Cable Label Self-Adhesive-1 Roll of 100 Labels 25x38mm
Name Label Self-Adhesive-1 Roll of 230 Labels 50x30mm
Navy Blue Thermal Paper 3 Rolls For 2 yrs
Green/Lavender Purple/Light Orange Sticker Thermal Paper 3 Rolls For 20yrs
Gold Sparkle Stickers Thermal Paper 3 Rolls For 20yrs
Semi-transparent Sticker Thermal Paper 3 Rolls For 20yrs
Little daisies/blue&white plaid/milk strawberry Sticker Thermal Paper For 20yrs
Pineapple/Colorful dots/Sun Sticker Thermal Paper For 20yrs
CUSTOMER REVIEWS
Based on {{summary.totalNum || 0}} reviews
Write A Review
Ask A Question
All Picture
{{item.like || 0}}
{{item.dislike || 0}}
{{item.replyCount || 0}}
{{item.like || 0}}
{{item.dislike || 0}}
{{item.replyCount || 0}}
{{reviewData.like || 0}}
{{reviewData.dislike || 0}}
{{reviewData.replyVoList.total || 0}}
RELEASE
/
RELEASE
CUSTOMER REVIEWS
Based on {{summary.totalNum || 0}} reviews
Write A Review
Ask A Question
{{item.like || 0}}
{{item.dislike || 0}}
{{item.replyCount || 0}}
{{reviewData.like || 0}}
{{reviewData.dislike || 0}}
{{reviewData.replyVoList.total || 0}}
RELEASE
RELEASE