M110 Product Instruction
————————————————————————————————
Please read this Instruction carefully before using this product and keep it properly.
01 Packaging List
① Printer*1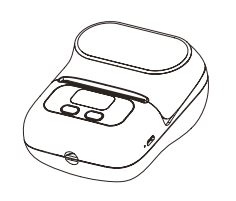 ② Product Instruction*1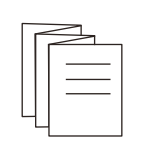 ③ Data cable*1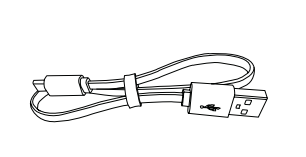 ④ Adjustable plate*1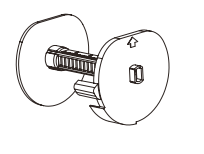 Please keep the warranty card properly, which will not be reissued in case of loss.
02 Produxt Desctiption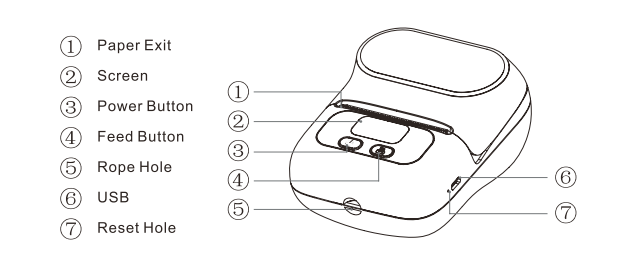 Turn On /off
(1) Press Power Button for 2 seconds to turn on the printer.
(2) To turn it off, please press the Power Button for 2 seconds.
Feed
(1) Label paper :Press Feed Button to feed the tape to the proper place and get ready for printing next tape.
(2) Continuous paper: Press Feed Button to keep paper feeding, it will stop when you let go of the button.
System Setting
(1) Press Power Button for 1 second to switch to the setting interface.
(2) Press Feed Button for 1 second ,scroll option list and select, by pressing Power Button.
(3) Press Power Button for 2 seconds to go back to the main page.
03 Screen Information   

Bluetooth
When printer connects to Bluetooth, this logo will light up. This logo will flash when the data is transferring.
Setting /Transfer
When you are using USB wire, this logo will be shown as; If you press Power Button for a short time, it will be switched to Setting Mode, the logo will be shown as Setting Mode.
Cover Opening
It indicates that the paper cover is opened or not closed correctly. A message will appear, stating that the paper cover is opened.
Paper Condition
If the paper roll is not installed correctly, or there is insufficient paper, this logo will light up. A message will appear, stating that there is no paper. When the paper is detected, it will give you a confirmation so that you are able to proceed.
Print Condition
It will light up while the printer is printing or feeding.
External Electricity
It will light up when the printer is connected to a power source.
Charging Battery
Please charge your printer when the power display begins to flash.
Text Area
This area shows related text information.
Screen setting
Options

Parameter

Language

English, Chinese

Print density

1(Lightest), 2, 3, 4(Light), 5, 6(Normal), 7, 8, 9, 10(Thick).

11, 12, 13,14,15(Thickest )

Print speed

1(Slowest), 2(Slow), 3(Normal), 4(Fast),  5(Fastest)

Paper type

Interstitial paper, continuous paper, black mark label

Automatic shutdown

5min, 15min, 30min, 1h, 2h, 4h, 8h, 24h, No shutdown

Restore settings

Press power button to restore

Firmware version

Display Firmware version

Device address

Display device address
Screen hint
| | |
| --- | --- |
| Content |  Condition |
| Shutdown  | Battery lower than 1% |
| Printing  | Printing regularly |
| Feeding  | Press Feed button |
| Overheated, please wait | Print head is overheated |
| No paper detected | No paper in the bin or paper is installed incorrectly |
| Cover opened  | The paper cover is opened |
04  Device parameters
 

 

 

 

 

 

 

 

 

Hardware

 Name    

Smart label printer

Model

M110

Print technology

Direct thermal

Maximum print width

20~50mm

Types of tape

Thermosensitive label,thermosensitivecontinuous paper

Label size :

57mmX50mm (Max width X Max diameter )

Print speed

20-45mm/s(switchable,level1-5)

Print concentation

Switchable,level1-15

Print resolution

203dpi

Life of print head

50KM

 

Communication type

Bluetooth4.0

Micro USB

Battery

1500mAh

Product Size

4.5x3.4x2.5in

Power Input

5V⎓2A

Power Supply Method

Micro USB

Lithium battery

Operatinng Information

 

Supported operating system

Windows7/8/10

Android

ios

Instruction set

ESC/POS

Bar code

1D bar code&2D bar code

Operating temperature

5°C-50°C

Storage temperature

-20°C-60°C

Operating humidity

20%-85%

Storage humidity

5%--95%(Non condensation)
05 Search Print Master on App store or Google Play to Get the App
06 Installing the Paper Roll
① Hold the printer andlift the paper cover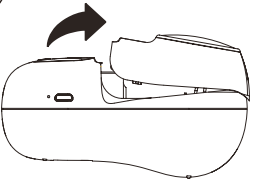 ② Take out the adjustable plate and remove the left panel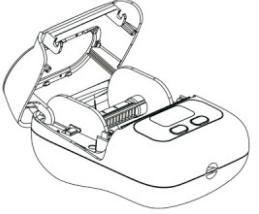 ③ Put the paper roll (Theprint sideshould be below) and push it to the right (Dividing ruler should be above. Note the position of the paper rolldevice as shown)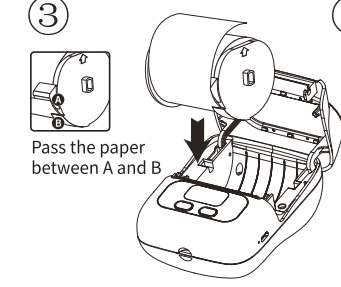 ④ Aim the adjustable plate at both slots and slowly put into the paper bin.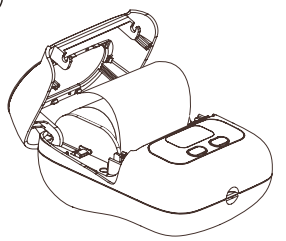 ⑤ Press Power button for 2 sec to turn on the paper bin by approximately 15mm) and close the paper cover make sure the paper bin is closed.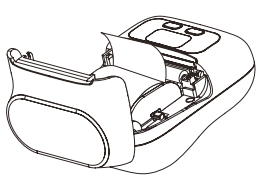 ⑥ Press Power button for 2 sec to turn on the printer, press feed button to push
one piece plate. Connect to the App, start to use it.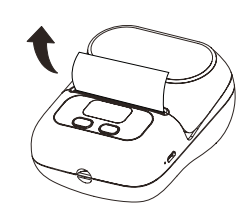 07  Product warranty Description
Thank you for choosing the Portable label printer
The free warranty period of this product is one year from the date of purchase (subject to the date of the official purchase invoice).
08 Non-warranty Regulations
The warranty is void under the following conditions:

Exceeding the warranty period.

Not presenting the original warranty/maintenance card.

Preserving a damaged warranty /maintenance card ( e.g. tearing or tampering )

Damage caused by unauthorized repair, disassembling, etc.

Damage caused by human error.

Damage caused by natural disasters such as earthquake, floods, windstorms, lightning strikes, or external disasters such as fires and house collapses.

Failure or damage caused by harsh conditions (oil, moisture, direct sunlight, etc.) or failure to use or care for as outlined by the instruction manual.