Why M03 portable thermal printer is a unique gift for friends
Over the years, you may have experienced the annoyance and frustration of buying large amounts of photo paper or replacing ink cartridges for various printers. Fortunately, mankind is now in an era of continuous technological development. The advent of inkless portable printers allows you to say goodbye to annoying and bulky photo paper and expensive ink.
Imagining giving this innovative portable thermal printer item to friends will undoubtedly arouse their interest and excitement. Next, let everyone understand why this M03 portable thermal printer is suitable for giving to others as a unique gift.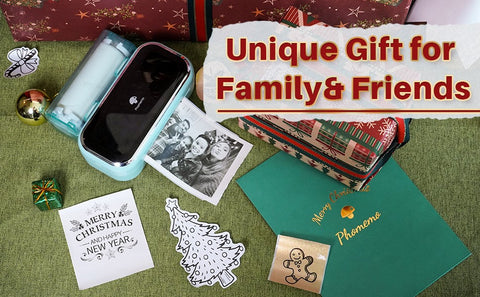 What is an innovative portable thermal printer?
As we all know, the ink and toner of many traditional printers are harmful to the environment and the human body. The inkless portable thermal printer does not require any ink or toner. It can print the required patterns through the chemical reaction generated by the heating of the print head and contact with the thermal printing paper. For those who want to save time and money, it is a good choice.
Novel appearance design
The M03 printer adopts a dual-machine design combination in structure, with a separate transparent plastic roll paper bin. This separate paper bin design makes it easier to see how much printing paper is in the paper bin, and secondly, it can reduce the weight of the machine. It can also replace paper rolls with a larger capacity, which is more convenient than traditional printers in use.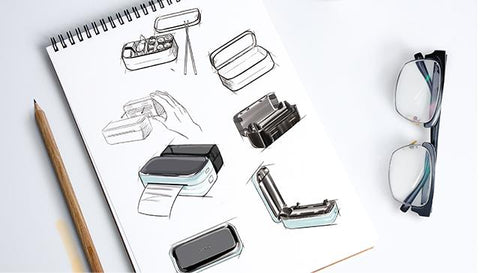 Excellent connection method
Many portable thermal printers have Bluetooth connectivity options, and this excellent connectivity makes these printers very flexible and versatile. The M03 thermal printer is no exception. Its Bluetooth connection allows you to use it conveniently on mobile devices such as mobile phones and tablets without connecting any cables or installing any drivers.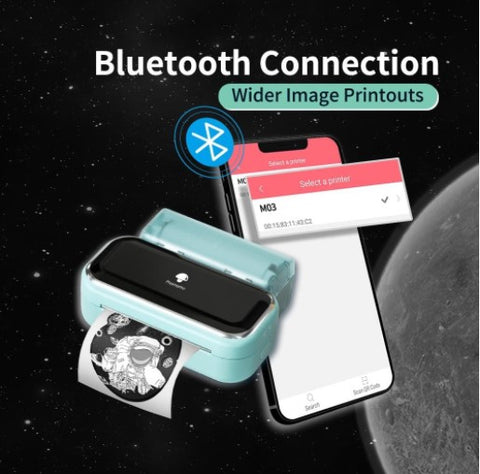 Easy to use
M03 Bluetooth thermal printer allows your friends to say goodbye to the cumbersome connection of various messy cables to traditional printers. She only needs to download a Phomemo application, connect to her smartphone via Bluetooth to complete wireless printing with a few taps, without dragging bulky photographic paper or buying expensive ink and toner.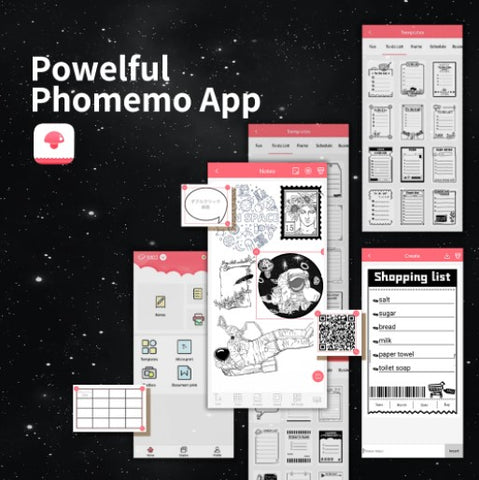 Easy to maintain
The wireless connection option of portable thermal printers makes them easy to operate without having to deal with the complexity of hybrid cables. More importantly, there is no need to add or replace ink, toner or ribbon, which means that thermal printers require fewer consumables. Since there are not too many additional moving parts, the M03 portable thermal printer is also easy to maintain and does not require frequent maintenance.

Would a Bluetooth thermal printer be a great gift?
The M03 portable thermal printer is one of the portable printers that can print large and wide content so far. It uses a brand new Japanese print head, 203dpi print resolution and supports 53mm and 80mm print widths. Using this portable functional printer, you can easily print any content for taking notes, making bullet journals, printing photos, or making your own DIY crafts! 
Here are 5 reasons why we think portable printers are great gifts for friends:
1. Instant photo printing
Imagine when your friends go out to play or participate in holiday parties and activities, if you can immediately get photos of the party play or the scene of the event as a commemorative gift to the other party after the mobile phone shoots, this meaning will be so special! Secondly, using it, you can quickly access any smartphone device and print your favorite photos in three seconds. Its thermal technology allows everyone to forget the limitations of expensive Polaroid photo paper.
2. Provide creative ideas for boosting bullet journals
People are always very excited to create some unique and interesting memory collections, and the bujo provides them with better opportunities. As every bullet journal enthusiast knows, they are troubled to find all kinds of sticker materials. With the M03 Bluetooth portable thermal printer, they can easily solve their troubles of searching for sticker materials everywhere, especially the rich patterns in the app and compatible large-size printing paper provide great creativity for the creation and spruce up for journaling.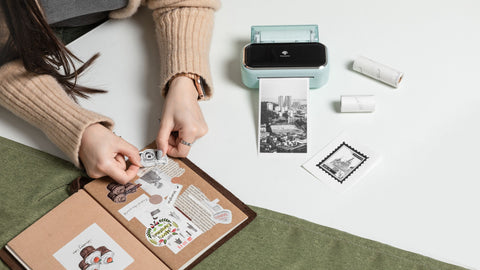 3. Provide inspiration for various DIY projects
This thermal printer can provide creative materials and ideas for your homemade projects, and print unique patterns to make DIY bookmarks, which is very friendly for any beginners in craftsmanship.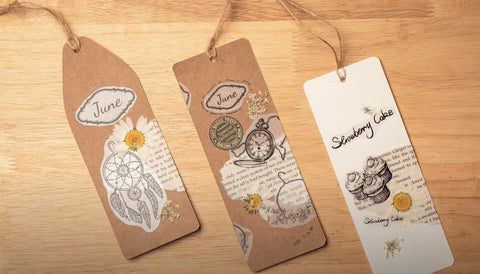 4. Decorate personalized gifts
You will find that before major holidays come every year, giving Christmas gifts to children and friends around you is also the most special thing of the year, and Christmas decoration patterns such as Santa Claus, Christmas tree, reindeer, gingerbread man and penguin are still the most special thing of the year. A must-have pattern in common gifts, the app of the M03 printer comes with many rich holiday patterns, which are printed and cut to make unique Christmas cards for her. It is of great significance.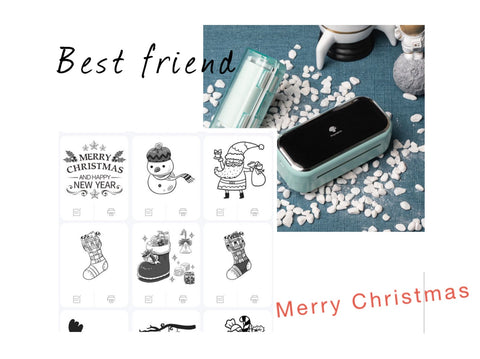 5. Daily to-do list planning
People who often forget things used to write daily to-do items on sticky notes with a pen. The M03 Bluetooth thermal printer is more convenient than before to record to-do items. There are a large number of interesting checklist templates for selection in the application template. After selecting the content of the favorite template, enter the text and print it with one click, and the new day to-do list is ready. Print out the daily to-do list and paste it in a prominent place so that you can remember and remind yourself what you need to do that day.