PHOMEMO M02 MINI PRINTER
Phomemo M02 mini printer is a printer that don't need to use the ink.
You just need download an APP and connect to your smart phone or tablet, then enjoy your printing journey.
Please note: This printer only can print photos in black and white or blue, which depends on the type of paper you used, but cannot print colorful photos.
Portable Size and Fast Charging
Simple stylish shape, compact size 3.38 * 3.22 * 1.65 in, compact size slips neatly into your shirt pocket. 1000mAh battery that lets you take it anywhere, 5V-2A make the charging more quickly. continuously working for 24 hours, 1.5 hours charging time and 1 week standby time.

Bluetooth Connection
Bluetooth 4.0 connection. Compatible with Smartphone and Tablet. You just need to download an APP to your device, without using wire. Suitable for android 4.0, for IOS8.0 or above.
Multi-functional
It can print memorandum and records,users see the information on the phone screen can be printed instantly,the appliacations offer variety of fonts, filter effects and themes,make your photo stylish. Support Web printing,material printing,remoto printing.
Applications
 Making notes
 Printing journal
Decorations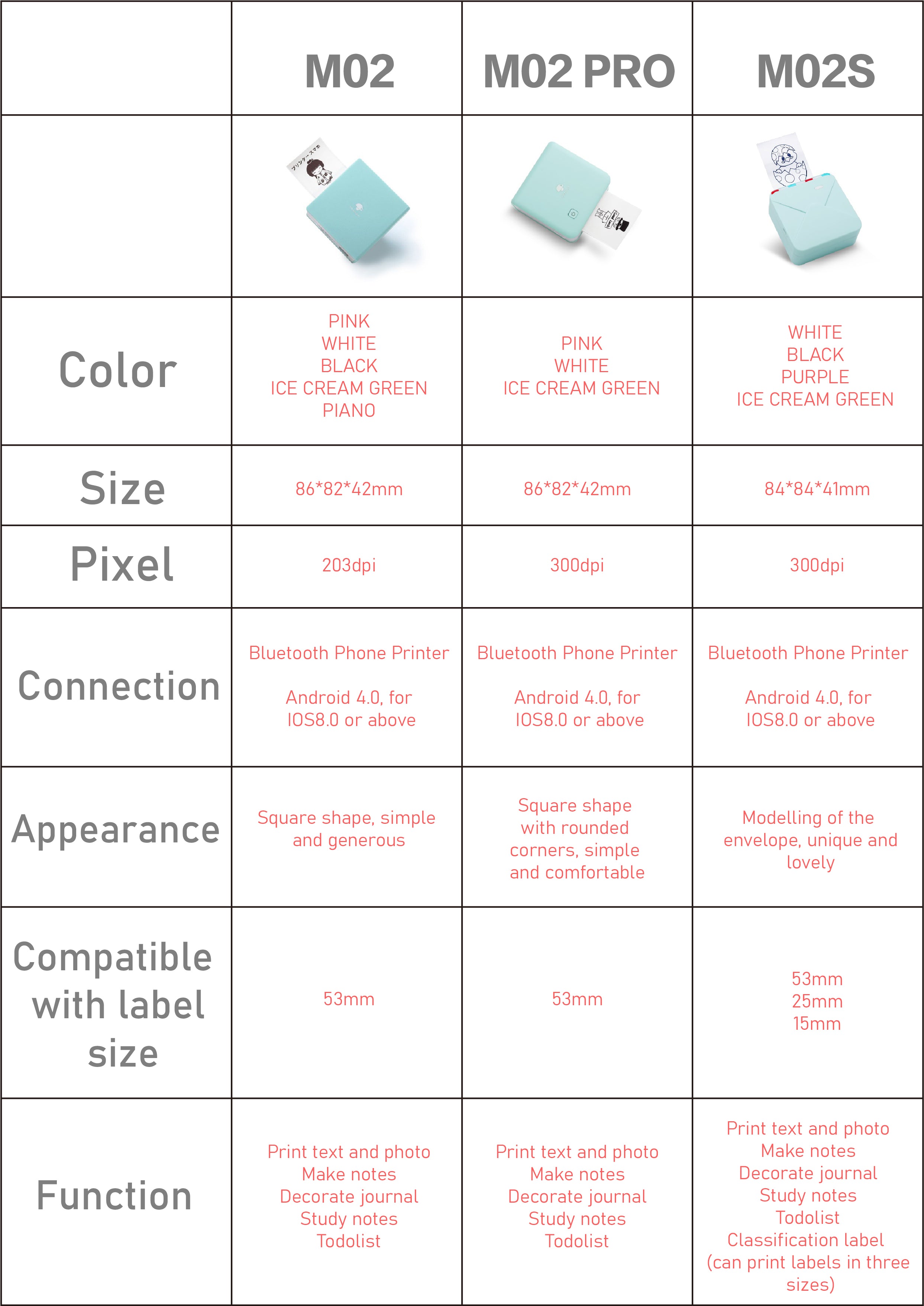 PACKAGE DETAILS
Tips

In order to ensure your normal use, here we have some notes for you, please read the following information before using your printer. 
1. In order to extend the life of the battery of the printer, please charge it before the printer runs out of electricity.
*When the printer's indicator light is red, it means that the machine is in a low battery state, please charge it immediately.*
2. If you will not use the printer after a long time, please remember to charge it regularly.
Transparent/Semi-transparent/Regular Sticker Thermal Paper 3 Rolls
Gold Sparkle/Silver Sparkle/Regular Sticker Thermal Paper 3 Rolls
Gold Sparkle/Silver Sparkle/Transparent Sticker Thermal Paper 8 Rolls
Gold Sparkle/Silver Sparkle/Semi-Transparent Sticker Thermal Paper 6 Rolls
Sticker Thermal Paper with Paper Holder Set | Compatible with M02S
Pineapple/Colorful dots/Sun Sticker Thermal Paper For 20yrs
Round Self-Adhesive Label-1 Roll of 140 Labels 50x50mm
Cable Label Self-Adhesive-1 Roll of 100 Labels 25x38mm
Name Label Self-Adhesive-1 Roll of 230 Labels 50x30mm
Navy Blue Thermal Paper 3 Rolls For 2 yrs
Green/Lavender Purple/Light Orange Sticker Thermal Paper 3 Rolls For 20yrs
Gold Sparkle Stickers Thermal Paper 3 Rolls For 20yrs
Semi-transparent Sticker Thermal Paper 3 Rolls For 20yrs
Little daisies/blue&white plaid/milk strawberry Sticker Thermal Paper For 20yrs
Pineapple/Colorful dots/Sun Sticker Thermal Paper For 20yrs
Transparent/Semi-transparent/Regular Sticker Thermal Paper 3 Rolls
Gold Sparkle/Silver Sparkle/Regular Sticker Thermal Paper 3 Rolls
Gold Sparkle/Silver Sparkle/Transparent Sticker Thermal Paper 8 Rolls
Gold Sparkle/Silver Sparkle/Semi-Transparent Sticker Thermal Paper 6 Rolls
Sticker Thermal Paper with Paper Holder Set | Compatible with M02S
Pineapple/Colorful dots/Sun Sticker Thermal Paper For 20yrs
Round Self-Adhesive Label-1 Roll of 140 Labels 50x50mm
Cable Label Self-Adhesive-1 Roll of 100 Labels 25x38mm
Name Label Self-Adhesive-1 Roll of 230 Labels 50x30mm
Navy Blue Thermal Paper 3 Rolls For 2 yrs
Green/Lavender Purple/Light Orange Sticker Thermal Paper 3 Rolls For 20yrs
Gold Sparkle Stickers Thermal Paper 3 Rolls For 20yrs
Semi-transparent Sticker Thermal Paper 3 Rolls For 20yrs
Little daisies/blue&white plaid/milk strawberry Sticker Thermal Paper For 20yrs
Pineapple/Colorful dots/Sun Sticker Thermal Paper For 20yrs
CUSTOMER REVIEWS
Based on {{summary.totalNum || 0}} reviews
Write A Review
Ask A Question
All Picture
{{item.like || 0}}
{{item.dislike || 0}}
{{item.replyCount || 0}}
{{item.like || 0}}
{{item.dislike || 0}}
{{item.replyCount || 0}}
{{reviewData.like || 0}}
{{reviewData.dislike || 0}}
{{reviewData.replyVoList.total || 0}}
RELEASE
/
RELEASE
CUSTOMER REVIEWS
Based on {{summary.totalNum || 0}} reviews
Write A Review
Ask A Question
{{item.like || 0}}
{{item.dislike || 0}}
{{item.replyCount || 0}}
{{reviewData.like || 0}}
{{reviewData.dislike || 0}}
{{reviewData.replyVoList.total || 0}}
RELEASE
RELEASE