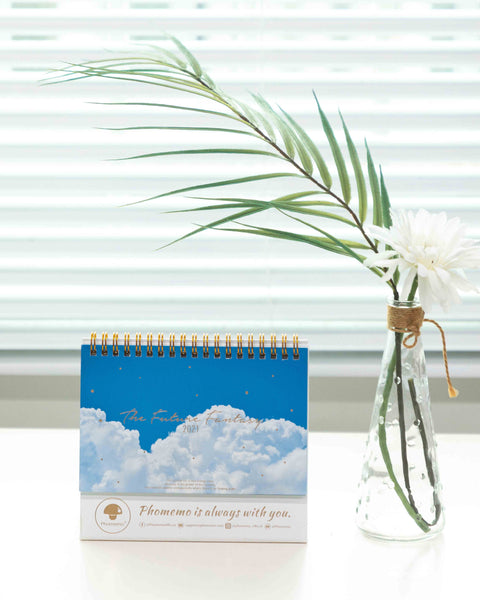 --Phomemo 2021 calendar is a sky cloud theme calendar, easy to carry and place on desk at office or home.
--It covers 12 months from January 2021 - December 2021 to help you set up the whole year plan.
--Great for planning each month cuz the back side of month page includes spaces for your To-Do List.
--The holes of it for optional wall hanging/decoration make each page of calendar removable.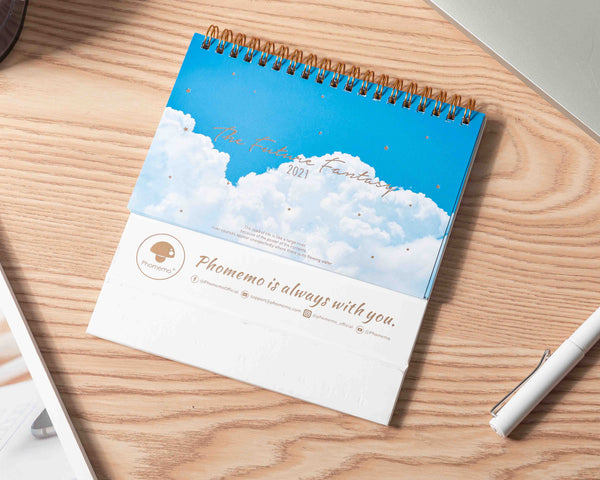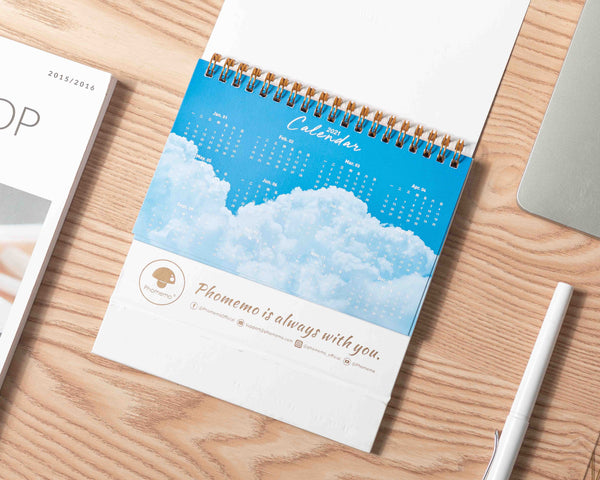 Product 
Name

Phomemo 2021

Sky Clouds Calendar

Type
Printing Calendar
Style
Table Calendar
Size
13cm*5cm*11cm
(W*D*H)
Transparent/Semi-transparent/Regular Sticker Thermal Paper 3 Rolls
Gold Sparkle/Silver Sparkle/Regular Sticker Thermal Paper 3 Rolls
Gold Sparkle/Silver Sparkle/Transparent Sticker Thermal Paper 8 Rolls
Gold Sparkle/Silver Sparkle/Semi-Transparent Sticker Thermal Paper 6 Rolls
Sticker Thermal Paper with Paper Holder Set | Compatible with M02S
Pineapple/Colorful dots/Sun Sticker Thermal Paper For 20yrs
Round Self-Adhesive Label-1 Roll of 140 Labels 50x50mm
Cable Label Self-Adhesive-1 Roll of 100 Labels 25x38mm
Name Label Self-Adhesive-1 Roll of 230 Labels 50x30mm
Navy Blue Thermal Paper 3 Rolls For 2 yrs
Green/Lavender Purple/Light Orange Sticker Thermal Paper 3 Rolls For 20yrs
Gold Sparkle Stickers Thermal Paper 3 Rolls For 20yrs
Semi-transparent Sticker Thermal Paper 3 Rolls For 20yrs
Little daisies/blue&white plaid/milk strawberry Sticker Thermal Paper For 20yrs
Pineapple/Colorful dots/Sun Sticker Thermal Paper For 20yrs
Transparent/Semi-transparent/Regular Sticker Thermal Paper 3 Rolls
Gold Sparkle/Silver Sparkle/Regular Sticker Thermal Paper 3 Rolls
Gold Sparkle/Silver Sparkle/Transparent Sticker Thermal Paper 8 Rolls
Gold Sparkle/Silver Sparkle/Semi-Transparent Sticker Thermal Paper 6 Rolls
Sticker Thermal Paper with Paper Holder Set | Compatible with M02S
Pineapple/Colorful dots/Sun Sticker Thermal Paper For 20yrs
Round Self-Adhesive Label-1 Roll of 140 Labels 50x50mm
Cable Label Self-Adhesive-1 Roll of 100 Labels 25x38mm
Name Label Self-Adhesive-1 Roll of 230 Labels 50x30mm
Navy Blue Thermal Paper 3 Rolls For 2 yrs
Green/Lavender Purple/Light Orange Sticker Thermal Paper 3 Rolls For 20yrs
Gold Sparkle Stickers Thermal Paper 3 Rolls For 20yrs
Semi-transparent Sticker Thermal Paper 3 Rolls For 20yrs
Little daisies/blue&white plaid/milk strawberry Sticker Thermal Paper For 20yrs
Pineapple/Colorful dots/Sun Sticker Thermal Paper For 20yrs
CUSTOMER REVIEWS
Based on {{summary.totalNum || 0}} reviews
Write A Review
Ask A Question
All Picture
{{item.like || 0}}
{{item.dislike || 0}}
{{item.replyCount || 0}}
{{item.like || 0}}
{{item.dislike || 0}}
{{item.replyCount || 0}}
{{reviewData.like || 0}}
{{reviewData.dislike || 0}}
{{reviewData.replyVoList.total || 0}}
RELEASE
/
RELEASE
CUSTOMER REVIEWS
Based on {{summary.totalNum || 0}} reviews
Write A Review
Ask A Question
{{item.like || 0}}
{{item.dislike || 0}}
{{item.replyCount || 0}}
{{reviewData.like || 0}}
{{reviewData.dislike || 0}}
{{reviewData.replyVoList.total || 0}}
RELEASE
RELEASE