【US & UK ONLY】Phomemo PM246 Thermal 4×6 Shipping Label Printer Bundle
Ship from USA directly! Takes only 2-7 days delivered in USA!
Notice: 
1. If your order is shipped to the USA, the Phomemo 4×6 Shipping printer will be delivered around 7 days (the printers are in stock in our US warehouse now), and we'll also add one free Phomemo Gift Bundle to your package. (Originally:$14.99)

2. Phomemo PM-246 4×6 Thermal Label Printer is only provided US-Standard Plug currently. If you need other specifications of plugs, please use a plug converter. We will provide more specifications of plug for this label printer in the future. We're sorry for any inconvenience and thank you for your understanding.

3. The option of choosing the computer system you use is to help us with research, the label printers are all the same.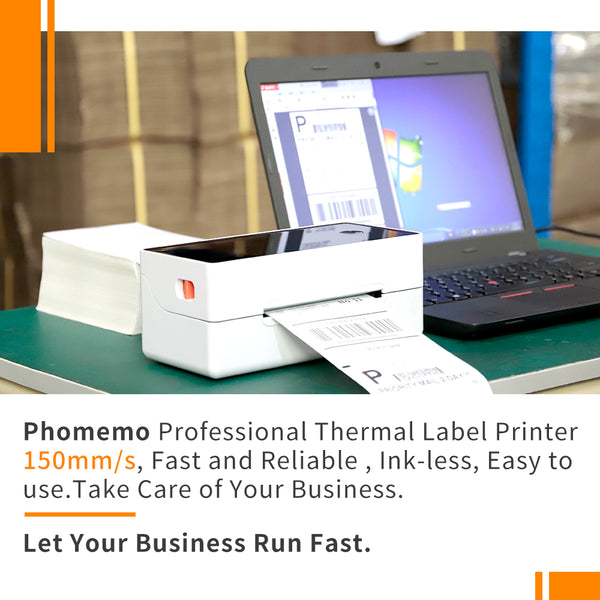 ✔ Direct Thermal High-Speed 4×6 Label Printer (without paper)* 1

✔ High-Speed Printing at 150mm/s- Direct Thermal Label Printer, engineered for high volume shippers, print up to 4" width, can work continuously for more than 12 hours printing 4"x6" shipping labels, at least 43200 labels, at a rapid 6 in/sec print speed.

✔ Compatible with Windows and Mac OS so You can create customized labels directly from Microsoft and Mac Address Book, etc. It installs and works like a regular printer that can create customized labels directly from any application.

*Please Note Phomemo PM246 Printer doesn't support Chrome OS.

✔ Works with any Thermal Direct Label- Phomemo Label Printer works with any thermal direct label including free UPS labels. Save hundreds of dollars on label costs. Print without buying any ink, toners, or ribbons. 1 Year Warranty and Technical Support via Email within 12 hours in time.

✔ Compatible with All Couriers- Compatible with all major shipping platforms including Endicia Dazzle, Stamps.com, ShipStation, ShippingEasy, ShipWorks, Shippo, Ordoro, and market places including Amazon, Shopify, Etsy, eBay, and others. Technology long used by shipping couriers themselves is now available at your fingertips at an affordable price.

✔ Automatic Label Identification- Insert the label, the printer will automatically catch the label and feed it into the printer. The first label is not wasted. High-speed label maker prints labels from 1.49" to 4.1" wide, maximum print length 11.81" (300mm). Ideal for 4" x 6" shipping labels, warehouse labels, barcode, food nutrition labels, food nutrition labels and ID labels, bulk mailing labels and more.




Features
●6 in/sec print speed makes one 4"x6" shipping label per second possible.
●Prints crystal-clear bar-codes and graphs, continuously for more than 12 hours.
●Create customized labels directly from Microsoft and Mac Address Book, etc.
●Cut costs Direct Thermal printing technology-- use with any direct thermal shipping label--no ink or toner needed.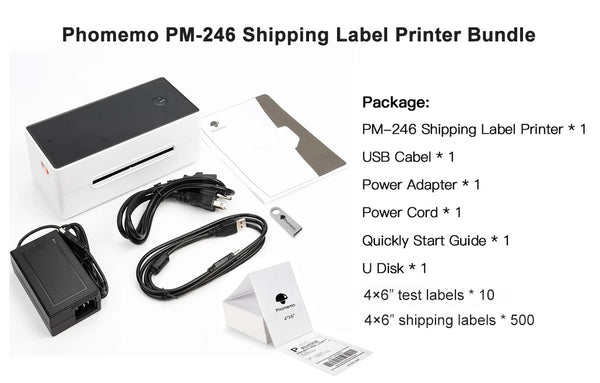 Media sensors
Fixed position transmissive sensor
Adjustable position reflective sensor
Head open sensor
Limited warranty
Printer: 1 Year.
Print head: 50 km (2 million inches) or 6 months which comes first.
If you have problems with missing prints, blank prints, or incomplete tolerances, please refer to the solution in this video below :
⬇⬇
To help you solve the problems encountered during use, please refer to our support center:
Transparent/Semi-transparent/Regular Sticker Thermal Paper 3 Rolls
Gold Sparkle/Silver Sparkle/Regular Sticker Thermal Paper 3 Rolls
Gold Sparkle/Silver Sparkle/Transparent Sticker Thermal Paper 8 Rolls
Gold Sparkle/Silver Sparkle/Semi-Transparent Sticker Thermal Paper 6 Rolls
Sticker Thermal Paper with Paper Holder Set | Compatible with M02S
Pineapple/Colorful dots/Sun Sticker Thermal Paper For 20yrs
Round Self-Adhesive Label-1 Roll of 140 Labels 50x50mm
Cable Label Self-Adhesive-1 Roll of 100 Labels 25x38mm
Name Label Self-Adhesive-1 Roll of 230 Labels 50x30mm
Navy Blue Thermal Paper 3 Rolls For 2 yrs
Green/Lavender Purple/Light Orange Sticker Thermal Paper 3 Rolls For 20yrs
Gold Sparkle Stickers Thermal Paper 3 Rolls For 20yrs
Semi-transparent Sticker Thermal Paper 3 Rolls For 20yrs
Little daisies/blue&white plaid/milk strawberry Sticker Thermal Paper For 20yrs
Pineapple/Colorful dots/Sun Sticker Thermal Paper For 20yrs
CUSTOMER REVIEWS
Based on {{summary.totalNum || 0}} reviews
Write A Review
Ask A Question
All Picture
{{item.like || 0}}
{{item.dislike || 0}}
{{item.replyCount || 0}}
{{item.like || 0}}
{{item.dislike || 0}}
{{item.replyCount || 0}}
{{reviewData.like || 0}}
{{reviewData.dislike || 0}}
{{reviewData.replyVoList.total || 0}}
RELEASE
/
RELEASE
CUSTOMER REVIEWS
Based on {{summary.totalNum || 0}} reviews
Write A Review
Ask A Question
{{item.like || 0}}
{{item.dislike || 0}}
{{item.replyCount || 0}}
{{reviewData.like || 0}}
{{reviewData.dislike || 0}}
{{reviewData.replyVoList.total || 0}}
RELEASE
RELEASE