PHOMEMO M02 MINI PRINTER

Phomemo M02 mini printer is a printer that doesn't need to use the ink. You just need to download an APP and connect to your smartphone or tablet, then enjoy your printing journey.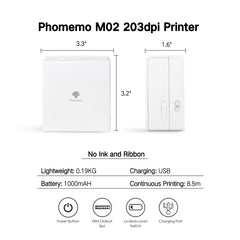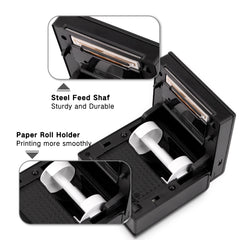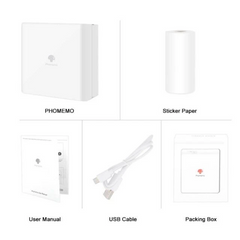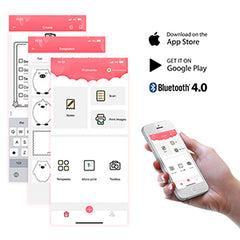 ✔ You can use the USB cable to charge. When fully charged, it can continuously print 8.5 meters of thermal paper.
✔ Steel feed Shaft, study, and durable. Smooth printing without jamming.
✔ One machine contains a roll of thermal paper (Regular Sticker Thermal Paper For 2 Years), a user manual, and a USB cable.
✔ You can use the mobile phone or tablet download Phomemo APP to connect bluetooth for printing, but one machine can only be connected to one device.
Phomemo App contains a large number of graphics and templates and it constantly being updated.
Please note: This printer only can print photos in black and white or blue, which depends on the type of paper you used, but cannot print colorful photos.
FEATURES
1. Adopt thermal printing technology and no need ink
Just need a roll of thermal paper and you can print at any time anywhere. High-precision print head and the print resolution up to 203dpi.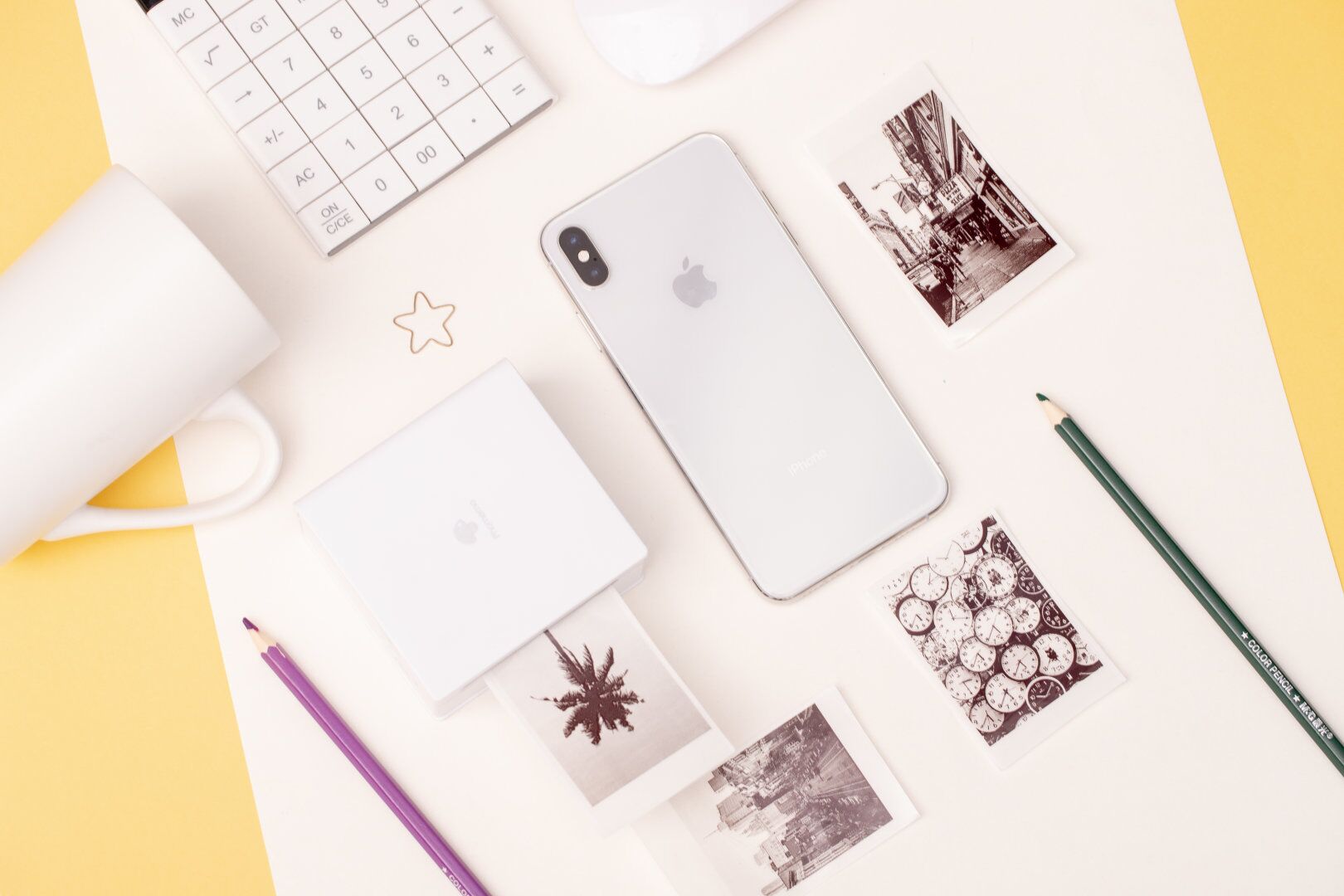 2. Compatible with diverse thermal paper 
M02 Series thermal printer is compatible with the 53mm size of phomemo thermal paper. Provide 15 different types of thermal paper, such as colorful, blue, adhesive, transparent sticker, etc., with a maximum photo retention period of 20 years.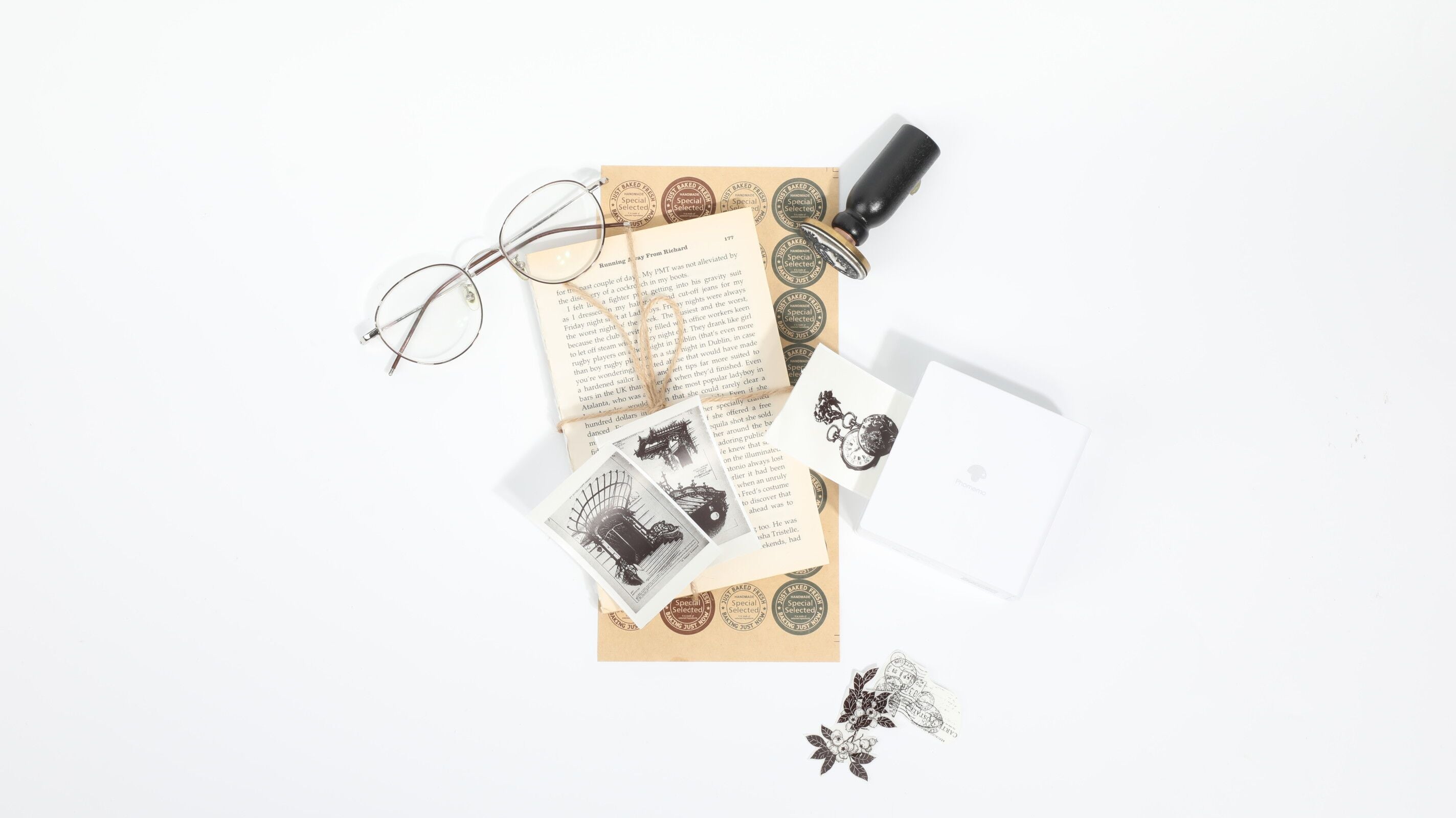 3. Multi-function use
M02 thermal printer can be used to make study notes, decorate, work plan, mark items, memo, make bullet journal, print image, Scan text and print, To-do list, make banner, etc. Suitable for students, office workers, Handbook enthusiasts, etc. Save money and print efficiently.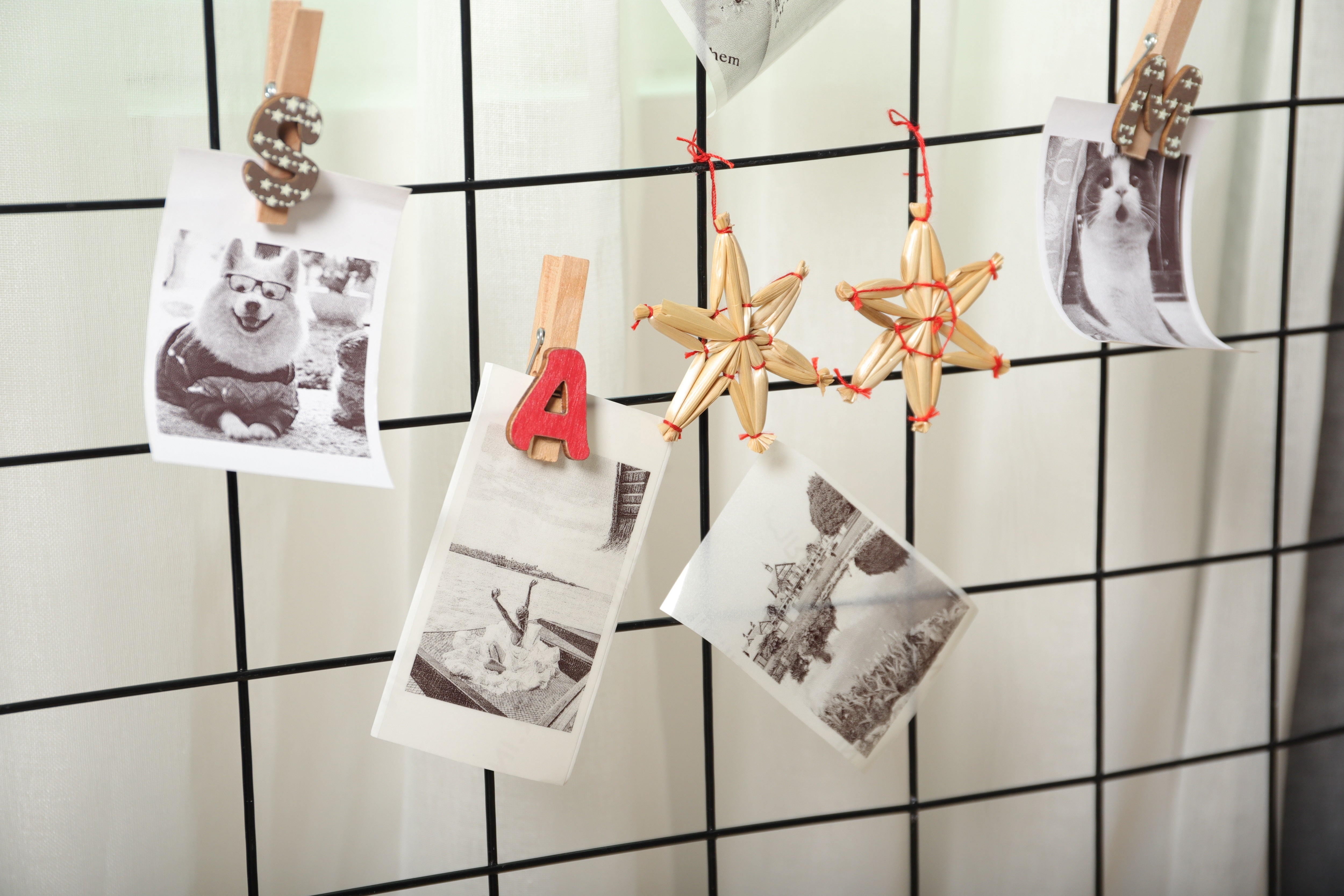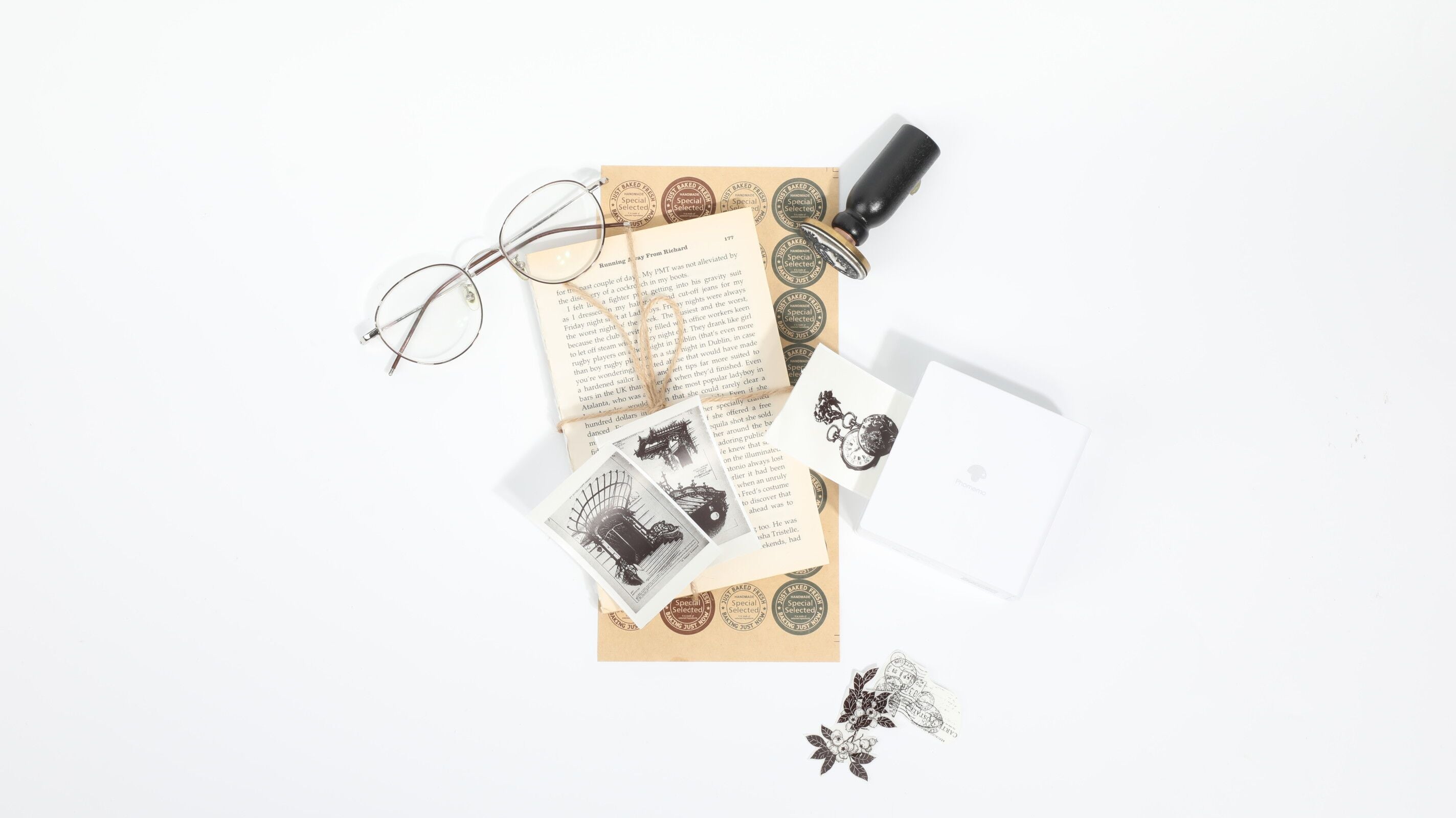 PHOMEMO THERMAL PRINTER COMPARISON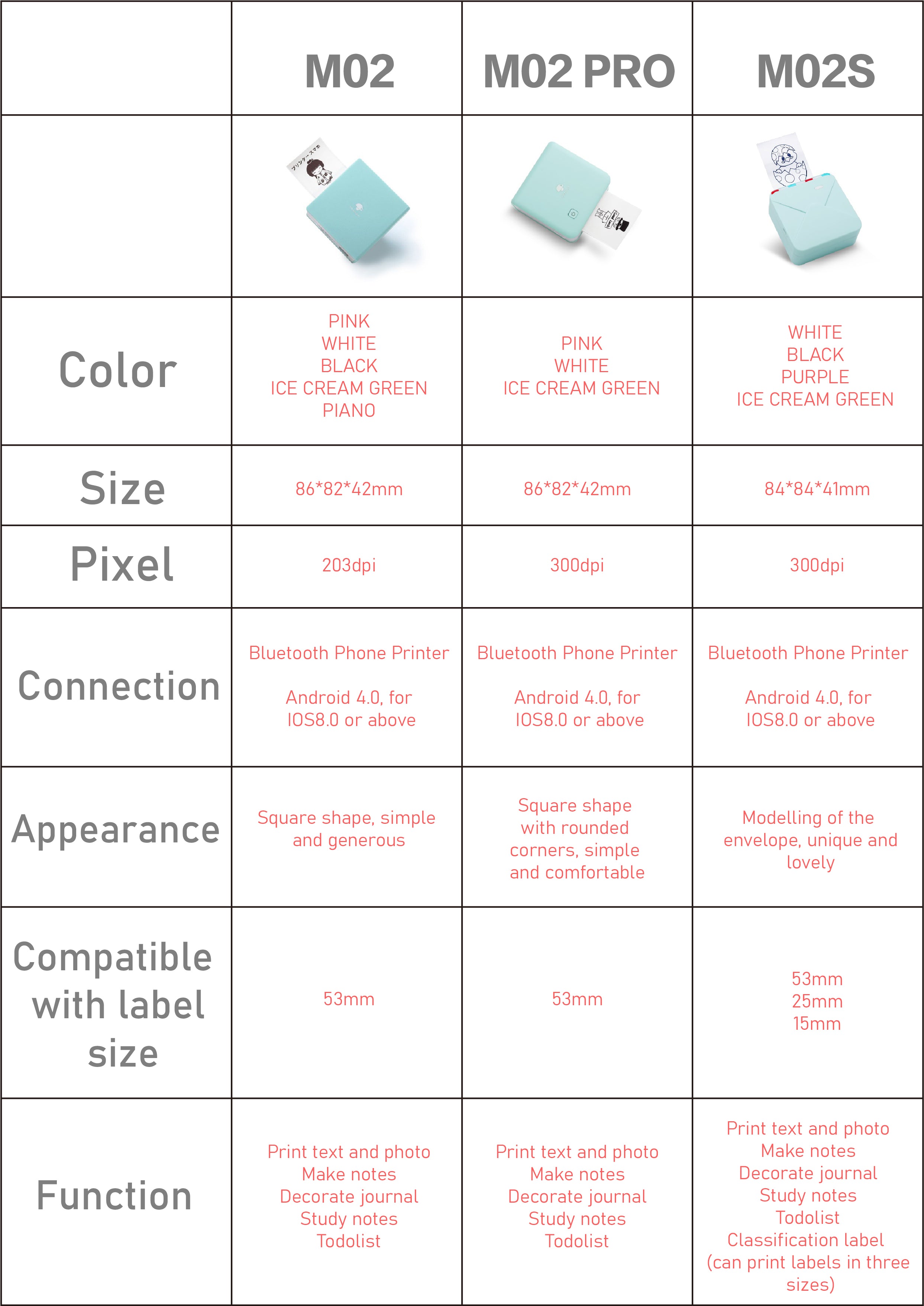 PACKAGE DETAILS
TIPS

In order to ensure your normal use, here we have some notes for you, please read the following information before using your printer. 
1. In order to extend the life of the battery of the printer, please charge it before the printer runs out of electricity.
*When the printer's indicator light is red, it means that the machine is in a low battery state, please charge it immediately.*
2. If you will not use the printer after a long time, please remember to charge it regularly.
Transparent/Semi-transparent/Regular Sticker Thermal Paper 3 Rolls
Gold Sparkle/Silver Sparkle/Regular Sticker Thermal Paper 3 Rolls
Gold Sparkle/Silver Sparkle/Transparent Sticker Thermal Paper 8 Rolls
Gold Sparkle/Silver Sparkle/Semi-Transparent Sticker Thermal Paper 6 Rolls
Sticker Thermal Paper with Paper Holder Set | Compatible with M02S
Pineapple/Colorful dots/Sun Sticker Thermal Paper For 20yrs
Round Self-Adhesive Label-1 Roll of 140 Labels 50x50mm
Cable Label Self-Adhesive-1 Roll of 100 Labels 25x38mm
Name Label Self-Adhesive-1 Roll of 230 Labels 50x30mm
Navy Blue Thermal Paper 3 Rolls For 2 yrs
Green/Lavender Purple/Light Orange Sticker Thermal Paper 3 Rolls For 20yrs
Gold Sparkle Stickers Thermal Paper 3 Rolls For 20yrs
Semi-transparent Sticker Thermal Paper 3 Rolls For 20yrs
Little daisies/blue&white plaid/milk strawberry Sticker Thermal Paper For 20yrs
Pineapple/Colorful dots/Sun Sticker Thermal Paper For 20yrs
Transparent/Semi-transparent/Regular Sticker Thermal Paper 3 Rolls
Gold Sparkle/Silver Sparkle/Regular Sticker Thermal Paper 3 Rolls
Gold Sparkle/Silver Sparkle/Transparent Sticker Thermal Paper 8 Rolls
Gold Sparkle/Silver Sparkle/Semi-Transparent Sticker Thermal Paper 6 Rolls
Sticker Thermal Paper with Paper Holder Set | Compatible with M02S
Pineapple/Colorful dots/Sun Sticker Thermal Paper For 20yrs
Round Self-Adhesive Label-1 Roll of 140 Labels 50x50mm
Cable Label Self-Adhesive-1 Roll of 100 Labels 25x38mm
Name Label Self-Adhesive-1 Roll of 230 Labels 50x30mm
Navy Blue Thermal Paper 3 Rolls For 2 yrs
Green/Lavender Purple/Light Orange Sticker Thermal Paper 3 Rolls For 20yrs
Gold Sparkle Stickers Thermal Paper 3 Rolls For 20yrs
Semi-transparent Sticker Thermal Paper 3 Rolls For 20yrs
Little daisies/blue&white plaid/milk strawberry Sticker Thermal Paper For 20yrs
Pineapple/Colorful dots/Sun Sticker Thermal Paper For 20yrs
CUSTOMER REVIEWS
Based on {{summary.totalNum || 0}} reviews
Write A Review
Ask A Question
All Picture
{{item.like || 0}}
{{item.dislike || 0}}
{{item.replyCount || 0}}
{{item.like || 0}}
{{item.dislike || 0}}
{{item.replyCount || 0}}
{{reviewData.like || 0}}
{{reviewData.dislike || 0}}
{{reviewData.replyVoList.total || 0}}
RELEASE
/
RELEASE
CUSTOMER REVIEWS
Based on {{summary.totalNum || 0}} reviews
Write A Review
Ask A Question
{{item.like || 0}}
{{item.dislike || 0}}
{{item.replyCount || 0}}
{{reviewData.like || 0}}
{{reviewData.dislike || 0}}
{{reviewData.replyVoList.total || 0}}
RELEASE
RELEASE