M03AS Portable Printer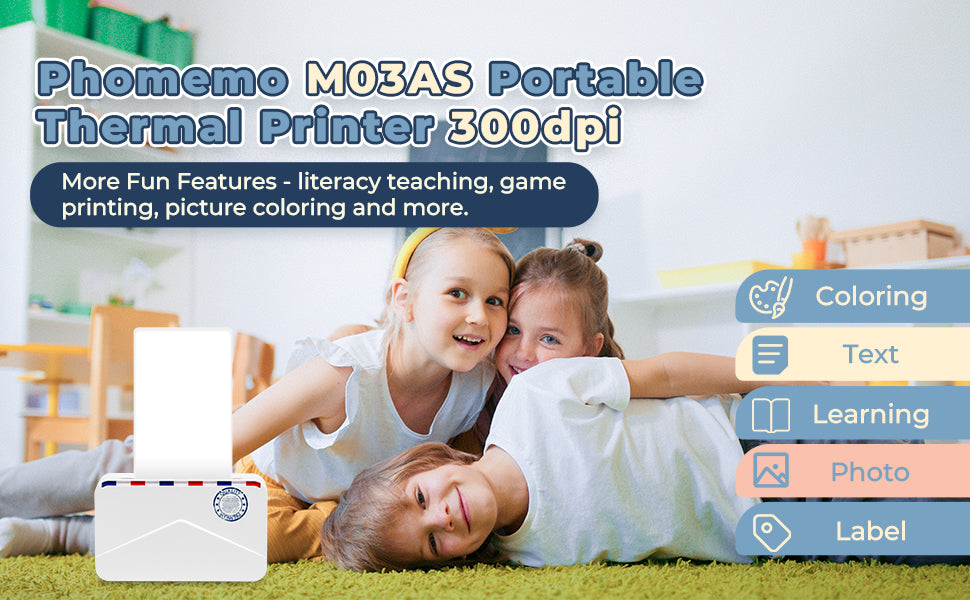 NEW RELEASE -- M03AS

The Wide Format & Envelop Style Portable Printer
[Early Education] in Phomemo APP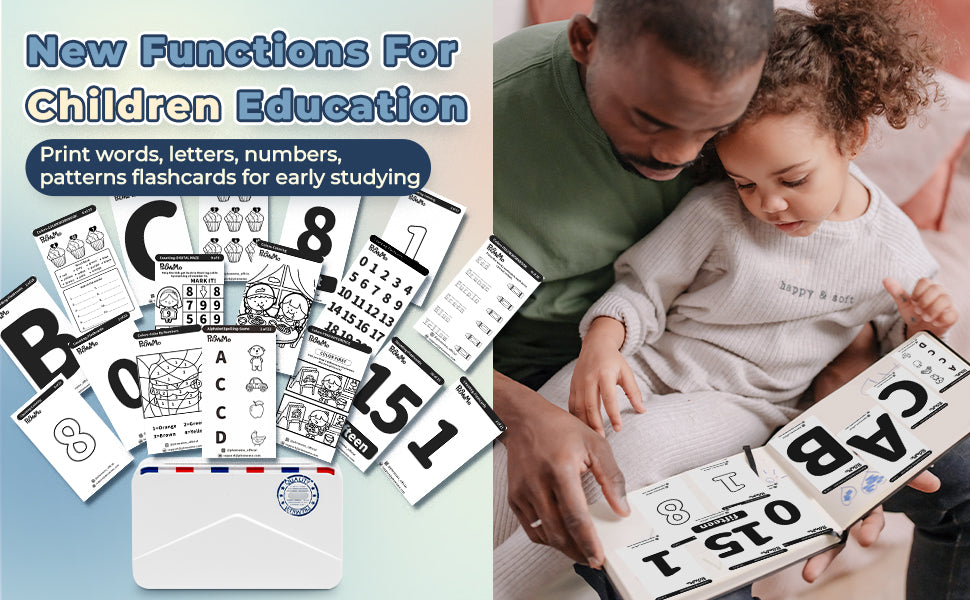 We launched a new feature in Phomemo APP -- [Early Education], dedicating to early children education, providing parents with multiful and interesting materials to help your childs learn math, letter in fun.
●Number Flashcards
●Alphabet Flashcards
●Coloring Flashcards
●Intelligent Games
Compatible with 3 sizes papers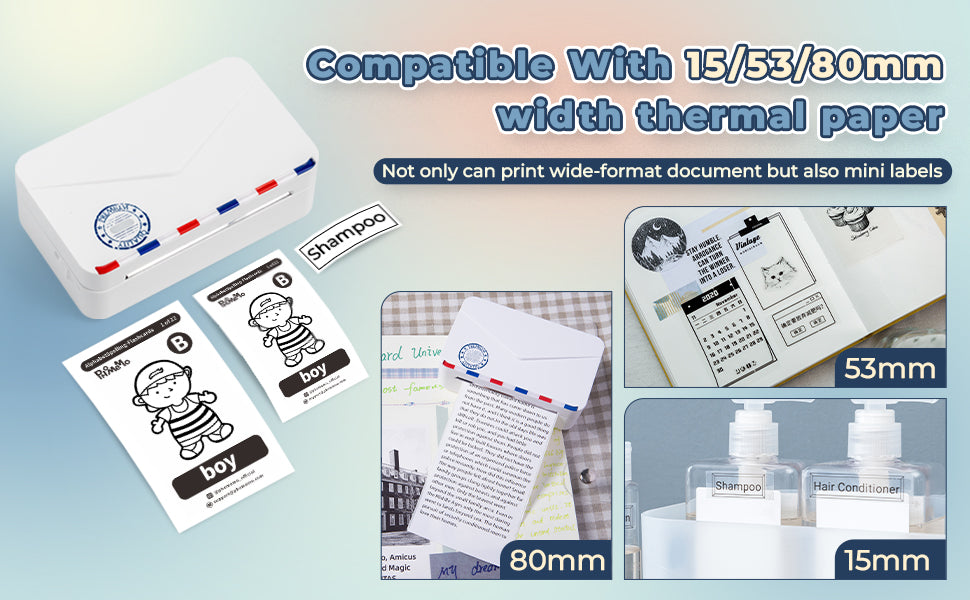 M03AS is compatible with 15/ 53/ 80 mm paper. It's a muitifuntion super printer with aesthetic look.
[Phomemo] APP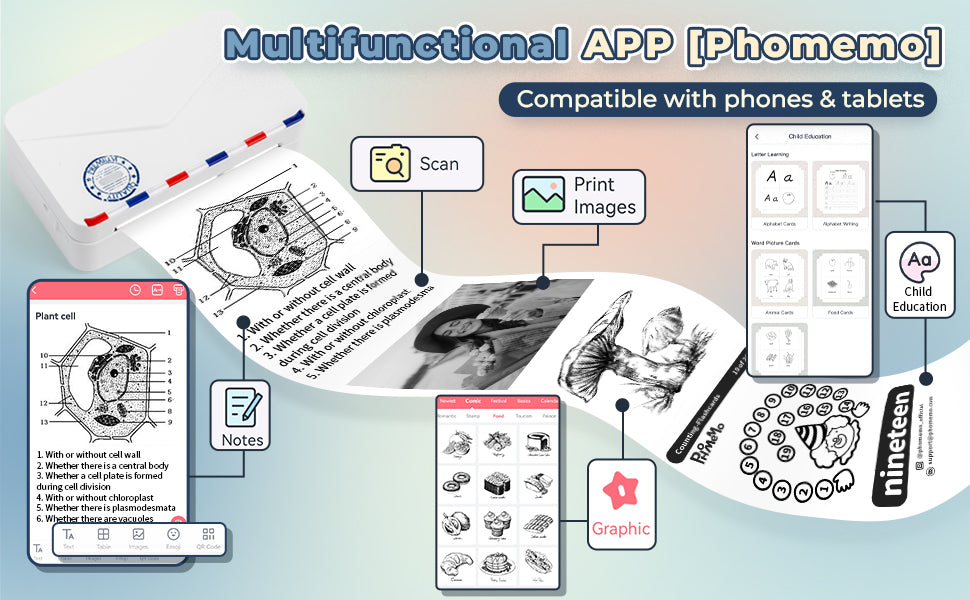 Compatible with phones and tablets. Please download it on Google Play or Apple Store.
There're plenty of ways to do with Phomemo:
●Edit text
●Photos printing
●DIY Jounal
●File printing ( Word/ PDF )
●Printing url
●Labels printing
●Flashcards
●Graphic stickers
●Banner
●etc...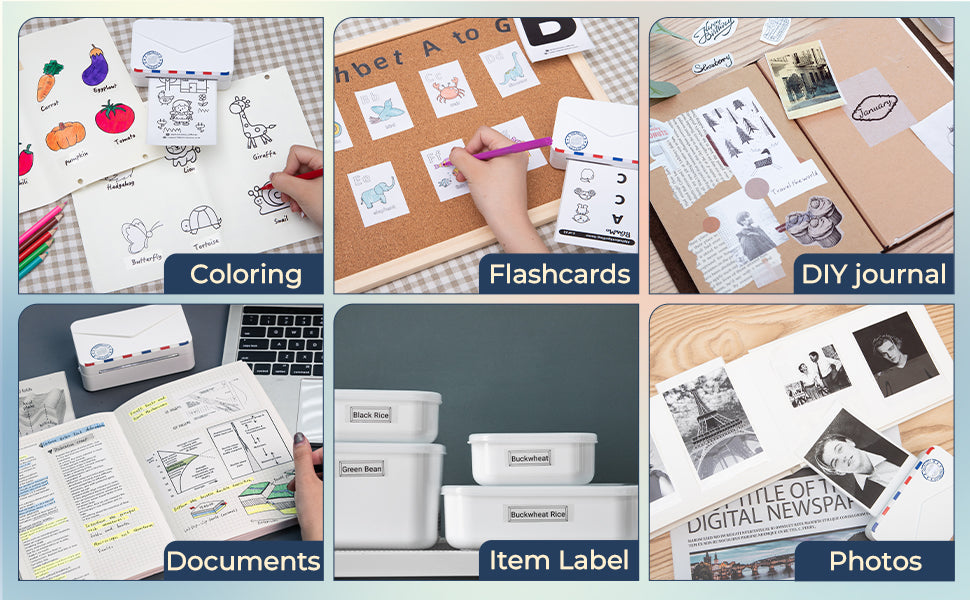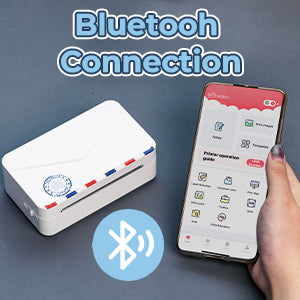 Bluetooth Connection
Turn on the bluetooth of the mobile phone or tablet, 
please connect the printer from the APP,
do not connect the printer directly with the mobile phone,
otherwise it will not work properly.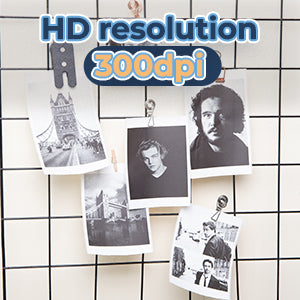 High Resolution 300DPI
High-definition resolution, print photos, images, and text more clearly.
Using thermal technology, no ink drop, no blackening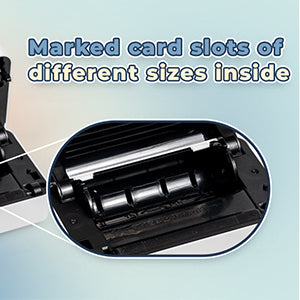 New paper loading
When you use different sizes of thermal paper,
fix the paper roll with the small black plastic sheet
and insert it into the corresponding size slot.
Transparent/Semi-transparent/Regular Sticker Thermal Paper 3 Rolls
Gold Sparkle/Silver Sparkle/Regular Sticker Thermal Paper 3 Rolls
Gold Sparkle/Silver Sparkle/Transparent Sticker Thermal Paper 8 Rolls
Gold Sparkle/Silver Sparkle/Semi-Transparent Sticker Thermal Paper 6 Rolls
Sticker Thermal Paper with Paper Holder Set | Compatible with M02S
Pineapple/Colorful dots/Sun Sticker Thermal Paper For 20yrs
Round Self-Adhesive Label-1 Roll of 140 Labels 50x50mm
Cable Label Self-Adhesive-1 Roll of 100 Labels 25x38mm
Name Label Self-Adhesive-1 Roll of 230 Labels 50x30mm
Navy Blue Thermal Paper 3 Rolls For 2 yrs
Green/Lavender Purple/Light Orange Sticker Thermal Paper 3 Rolls For 20yrs
Gold Sparkle Stickers Thermal Paper 3 Rolls For 20yrs
Semi-transparent Sticker Thermal Paper 3 Rolls For 20yrs
Little daisies/blue&white plaid/milk strawberry Sticker Thermal Paper For 20yrs
Pineapple/Colorful dots/Sun Sticker Thermal Paper For 20yrs
CUSTOMER REVIEWS
Based on {{summary.totalNum || 0}} reviews
Write A Review
Ask A Question
All Picture
{{item.like || 0}}
{{item.dislike || 0}}
{{item.replyCount || 0}}
{{item.like || 0}}
{{item.dislike || 0}}
{{item.replyCount || 0}}
{{reviewData.like || 0}}
{{reviewData.dislike || 0}}
{{reviewData.replyVoList.total || 0}}
RELEASE
/
RELEASE
CUSTOMER REVIEWS
Based on {{summary.totalNum || 0}} reviews
Write A Review
Ask A Question
{{item.like || 0}}
{{item.dislike || 0}}
{{item.replyCount || 0}}
{{reviewData.like || 0}}
{{reviewData.dislike || 0}}
{{reviewData.replyVoList.total || 0}}
RELEASE
RELEASE