Phomemo
Lucky Thermal Paper Box for M02 Series/ M03AS/ M04S/ M04ASThermal Paper!
*Available for Phomemo M02 & M02 Pro & M02S & M03 thermal printer!
Ship from USA directly! Takes only 2-7 days delivered in USA!
Lucky Box Description 


Thank you for supporting Phomemo all the time!

Now we have some surprises for you.💗 This time we prepared six different versions of lucky boxes specially designed for the M02 Series Thermal Printer - Phomemo M02, M02 PRO, M02S & M03 Thermal Printer

Each version of the Thermal Paper Lucky Box (For M02 Series) includes six different rolls of thermal paper, which will also include our hot-selling thermal paper!🔥 So that you can use 6 different styles of paper with only one purchase!


Go and see which lucky box belongs to you.✨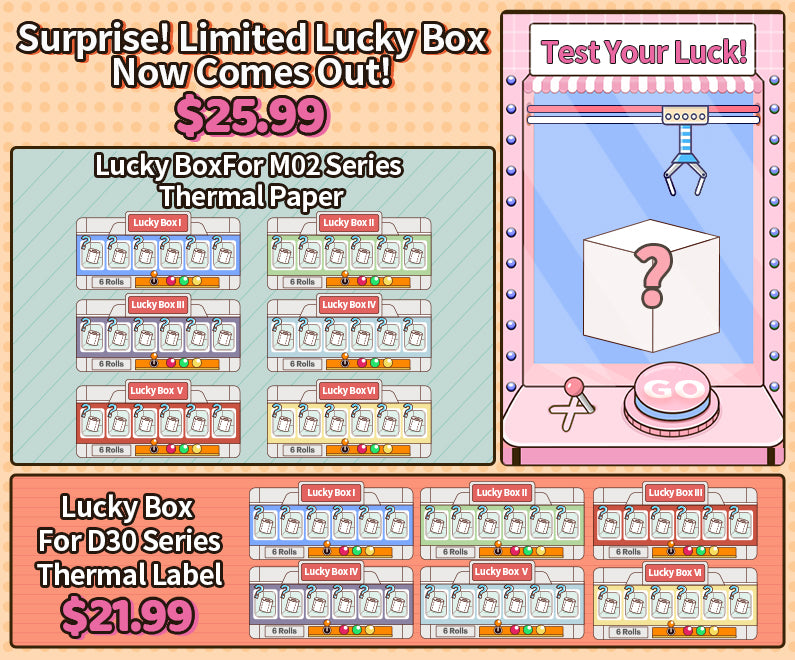 What's inside one box of M02 Thermal Paper Lucky Box (6 Rolls of different paper rolls)? 👇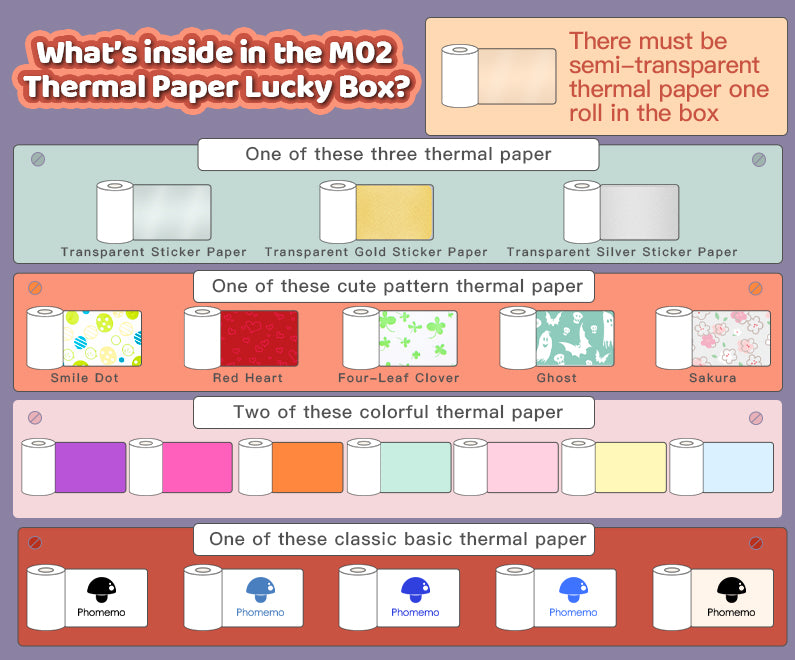 Oh... You don't have the M02 Series Label Printer yet?
Order now to enjoy the lowest price now for M02 👉

*Tips for keeping the best quality of thermal printings:
--Please keep the printings stay away from high-temperature and direct sunlight.
--Try not to let the printings resist physical friction (such as rubber friction) for a long time.
e.g. If you rub the paper for a long time, it'll be easy to damage the printing coat and cause it to fall off.
--Try not to let the printings approach chemical materials for a long time:
e.g. Touch the printings with your hands for a long time, because there may be sweat or lavender essential oil on your hands, and they will make the printings on the thermal printings fade quickened.
Q22-RMS-M01
Recommended To You
Always one option fit for you